COMING SOON!
September 26 - November 2
1930s in RUSSIAN ART
FROM the ART GROUP "BYTIE" to the "UNION OF ARTISTS"
Graphics and paintings by Sergey Bogdanov, Nikolay Troshin, Olga Deineko, Nikolay Viting, Porfiry Lebedev and others.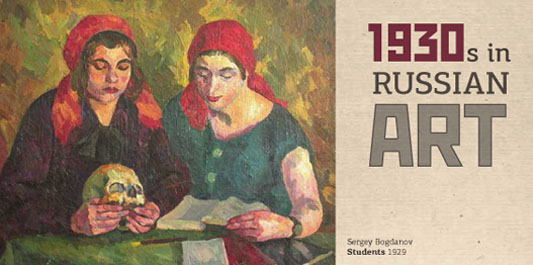 * Art Group "Bytie" ("Existence") was a society of artists formed by graduates of VKhuTeMas in Moscow in 1921. Its core was formed by students of Petr Konchalovsky. "Existence" organised seven exhibitions between 1922 and 1929.
* Union of Artists of the USSR was a creative union of the Soviet artists and arts critics embracing the Republics of the Soviet Union. The Union started in 1932 to supersede the AKhRR (The Association of Artists of Revolutionary Russia). The integral Union was instituted in 1957. At January 1, 1976 the Union included 14,538 members.
The Association of Artists of Revolutionary Russia (Assotsiatsia Khudozhnikov Revolutsionnoi Rossii, 1922-1928, later known as Association of Artists of the Revolution - Assotsiatsia Khudozhnikov Revolutsii or AKhR, 1928-1932) was a group of artists in the Soviet Union in 1928-1933. Diverse members of the group gained favor as the legitimate bearers of the Communist ideal into the world of art, formulating framework for the Socialist Realism style. Original founding members included Pavel Radimov (the last chairman of Peredvizhniki movement), Sergey Malyutin, Yevgeny Katzman, Pyotr Shukhmin and other realist painters, who already established themselves in artistic world before the Russian Revolution of 1917. The group formed within the Peredvizhniki movement, that held their last, 47th, public exhibition in 1922, and clearly placed itself in opposition to avant-garde art.
Their first public statement as a new entity was a 1922 exhibition in Moscow; all proceeds were used for the relief of Russian famine of 1921. By 1928, the group sponsored 10 nation-wide exhibitions with high publicity. Despite its revolutionary title, it successfully united artists of the "old school" like Abram Arkhipov, Aleksandr Makovsky, Nikolay Kasatkin, Konstantin Yuon and the younger ones like Sergei Gerasimov and Isaak Brodsky. In a decade, it grew up from 80 to over 300 members. Broad membership and dominance of mature artists born in the 1870s and 1880s helped in establishing AKhRR as a reliable institution, far from ultra-revolutionary rhetorics. During the crackdown on independent art movements in 1932-1933, AKhRR served as the nucleus for the stalinist USSR Union of Artists, and was liquidated after its formation.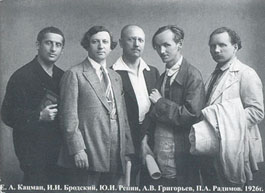 MARK YOUR CALENDAR (Please, RSVP at art@nbgalley.com):
NEW! Lectures on Russian art on Saturdays for adults. Once a month.
* Saturday, SEPTEMBER 27. 12 - 1pm. The first lecture - "Soviet art of 1930s"
* Sunday, OCTOBER 12. 11am - 1pm. Family Art Session for children 4-9 y.o and their parents "Realism and Avant-garde art - what is the difference?"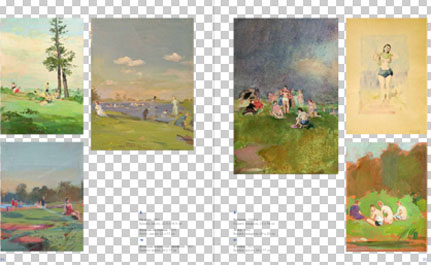 photo: Family Art-Session "Harvest Celebration" from August 30th