Nickolay Viting (1910-1991)
Nickolay Viting was born in Bryansk in the family of the railway engineer. His father was seriously fond of painting and his uncle had a good collection of Russian art. In 1920s during the Civil War the family moved to Moscow. When Viting was about 16-17 years old he saw the exhibition of German Expressionist, later the exhibition of Fernch Art with the works by Amadeo Modiliani. In 1928-1930 Viting entered the Art Courses of the House of the Art Education. His art teachers were Igor Yuon and Konstantin Morozov. Konstantin Morozov invited Viting to join the art group Painters' Workshop. This group was organised by wonderful artists Alexandr Shevchenko and Alexandr Golovanov.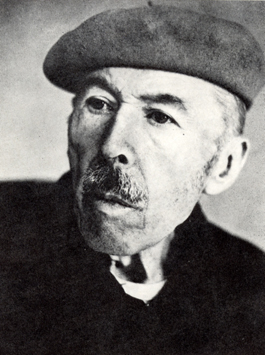 In 1929 Viting studied at the studio of this art group. The members of the group were mostly students of followers of A.Shevchenko and declared themselves as Russian expressionists. He made experiments with texture using daze, gypsum, sand. Meetings with Vladimir Mayakovsky, Roman Semashkevish and many other outstanding artists helped the young man to find his personal style. In 1929 a legendary foundator of Jack of Diamonds group, the artist Aristarkh Lentulov highly appreciated Viting's talent of colourist and chose some of his paintings for the exhibition. In 1930 Viting participated in the V-th Exhibition of the Painters' Workshop group.
In 1934 Viting entered Moscow Art Institute. He studied in the class of Sergey Gerasimov and Pavel Pavlinov. After graduation in 1942 Viting worked at the M.B.Grekov Studio of Battle Painters. He made series of graphic works at the Southern front, portraits of tankers, pilots, and soldiers. He thought the drawing to be the basement for any of the Fine Arts - painting, architecture, and sculpture. Many of his drawings later he reworked in lithographs. Lots of his works from this period were purchased for the museum collections.
In the works of 1960s the artist comes back to the style of 1930s. In the painting the most important for Viting was not the subject, not literary or philosophical idea, but the art image, the pictorial or graphic idea. Voting did not follow the plein-air studies like the most artists in this time. He preferred his own artistic interpretation of natural impression. In his sport series (Boxing.1977, Basket-ball Players, 1976) Viting fixed the most dramatic moments but then he reinterpreted moments of the struggle into expressionist symbolical images. He always repeated that the artist must work with endless joy.
Nickolay Viting was one of the artists who succeeded to keep traditions of the art of 1930s and to follow his personal style in the epoch of triumph of socialist realism. The artworks by Nickolay Viting are represented in the collections of the State Tretyakov Gallery (Moscow), State Art Museum of Georgia (Tbilisi), I.V.Savitsky Karakalpakastan State Art Museum (Nukus, Uzbekistan), The State United Art Museum (Kostroma), Historical, Art and Architectural Museum in Novy Jerusalem (Istra)