80-th anniversary of Gennady Raishev, a unique artist from Khanty-Mansyisk
Honoured artist of Russia, Member of the Academy of Arts of Russia, Gennady Raishev was born in 1933, in the Siberian village on the Salym River, where it flows into the great Ob River. These places have since time immemorial been populated by the Khantys, a Siberian ethnic minority who live by hunting and fishing. The Raishevs, Khantys from Irtysh River, and the Konevs, old-time Siberian residents, moved to these parts during the Civil War of 1918-1920.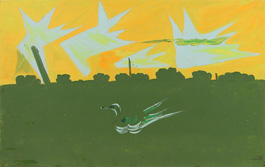 Raishev's life and work have been determined by the coming together of these two Siberian clans, "the two rivers", as the artist calls them. His brightest visual impressions - the "infinite spaces" of water, of the skies above, of the field and forest right behind the village - come from his childhood. His early years were clouded with trials: his father, a victim of Stalin's repressions, was murdered in 1938; during the war young Gennady was forced to give up school and take up hunting. It was the basic harmony of rural life that later came to sustain his creative work.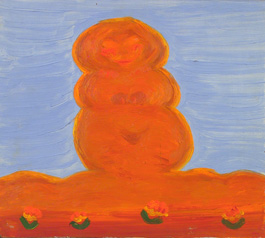 Gennady Raishev has inherited the mythological thinking of a Northern forest people, its fairy tales, legends and superstitions. His work displays kinship with his people's mythology and lore not only in its topics, but also in the manner of presentation, in feeling of space, rhythm and patterns. The images in Raishev's paintings do not lend themselves easily to an explicit verbal rendering, to an unambiguous interpretation. They always have multilayered structure. There is a stratum of direct observation of nature: the golden sunset sky above the gloomy forest wall. But there is also a whole world of personifications of folklore characters, with the sunset over the forest turning into a mask of the MISTRESS OF THE FOREST.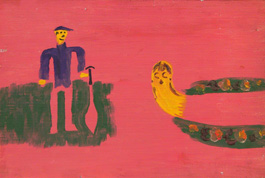 Panoramas of his vast native land alternate with "close-ups". One can almost sink into the soft carpet of the sweet-smelling earth inhabited by girls-bird cherries, women-cloudberries, grass muzhiks (peasants), and ubiquitous ducks.
Gennady Raishev is the artist that has the ability to translate mythological consciousness not superficially, but naturally and emotionally, into the language of modern, highly individualized creative work. His works were represented at numerous exhibitions in Moscow, Sverdlovsk (Yekaterinburg), Khanty-Mansijsk, Tobolsk, Surgut and abroad: in Hungary, Finland, and Switzerland. Paintings by Gennady Raishev are in The State Tretyakov Gallery (Moscow), Ekaterinburg Fine Art Museum, Tumen Fine Arts Museum, Regional Museum of Local Lore (Khanty-Mansiysk), in many private collections in Russia, Finland, Hungary, and the USA.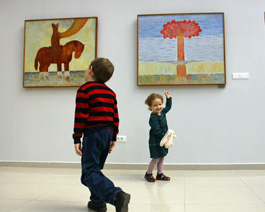 In Khanty-Mansyisk 2014 is announced as a year of Gennady Raishev. NB Gallery congratulates the artist on his birthday, joins his celebration and shows his artworks at the Gallery. We invite you to see this collection!