City Transportation of the 1940 to the 1980s

21.03.2015 — 18.04.2015

Soviet cars, buses, trams and trolley cars; construction of the first metro and life around and in it, crowded boulevards and busy streets - the whole history of transportation depicted by the painters Viktor Babentsov, Vladimir Bubnov, Evsey Reshin, Sergey Pankratov, Alexey Zaitsev, Solomon Boim, Marina Mironova, Dmitry Pyatkin, Tamara Dekhtereva and other Soviet artists of the second half of XX-th century. Unique posters devoted to Moscow made in 1947 by the famous poster designers Viktor Ivanov and Boris Mukhin will be presented among other 11 posters of the exhibit.



Interesting facts about Moscow city transportation
Tram
In early 1900s Moscow had an extensive electric tram system, which had firstly been opened in 1899. However as Metro was opened (May, 1935) and the trolleybus appeared (November, 1933), the tram network was radically reduced and the most of the tram routes became to be served by the trolleybuses. In particular, the B-tram-route to run around the Garden Ring, was changed by the B-trolleybus-route. Now tram daily usage by the Muscovites is low (approx. five percent), although it still remains vital in some districts for those who need to get to the nearby Metro station.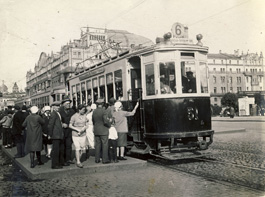 Trolleybus
Trolleybus first appeared in Moscow in 1933 - the first single-track route opened on November 15 from the Tverskaya Zastava Square (Belosrusskaya Railway Station) to the village Vsekhsvyatskoe (now near the metro station "Sokol")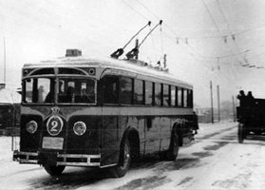 This kind of articulated trolleybuses to be in use during 1960s, was nicknamed "Garmoska" ("a button accordion"). The inscription near the doors "Vkhod" and "Vykhod" meant accordingly "Enter" and "Exit":


March 21 - April 18

The Hustle and Bustle:City Transportation of the 1940 to the 1980s

EASTER ART FAIR

NB Gallery invites all art lovers, friends, families with children, and everybody who will be staying in Moscow during Orthodox Easter week-end to EASTER ART FAIR at NB GALLERY on

Saturday, April 11, 12-6pm

The program includes:

* a selection of artworks at special "spring" prices

* wide selection of silk scarves with Russian and French art motifs presented by Laurence Giesler-Pipon

* Easter antique collection from De Putti Antique Gallery

* egg painting for children (parents are welcome to help!)

* tea and home-made cakes!