Artworks by Irina Vitman (1916-2012)

13.03.2014 — 09.04.2014

"...her artwork is fanned by a touch of French charm..." Robert Falk



Irina Vitman (1916-2012)
Irina Vitman was born in Moscow in 1916. Her mother was French and her father was Lettish. When she was a child she spent several years in Paris with her parents (1925-1928). It was the time when Impressionists had already become classics and French artistic life raged looking for new ideas and new names. Freedom and beauty of the city where everything breathed with art moved Irina to make a decision concerning her future. "Daddy, I will be an artist" - she wrote in one of the letters to her father when she was 10. In early 1930s she attended the Courses of the Printing Technical School where she met her future husband Alexei Sokolov who also became an artist later. In 1936 they were invited to study at the All-Russian Academy of Art. The war broke out in the summer of 1941 when they worked in the Crimea. Alexei joined the army as a volunteer and Irina went back to Leningrad from where she and other students were evacuated to Samarkand in 1942.
After the cold and hungry Leningrad warm Samarkand seemed like a heaven to the young artist: bright colours, decorative cloths of local people, small cubic white houses made of clay, rich southern nature. All this appeared in her wonderful sketches and paintings. The "Samarkand Series" was Irina's first serious work where her talent was revealed and she found herself as a real artist.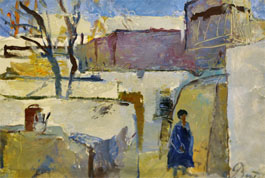 In 1944 she came back to Moscow and entered the Surikov Art Institute where she studied under the direction of a famous Soviet artist A. Osmerkin. In 1948 Irina Vitman became a member of the Artists' Union.
The artist worked and travelled a lot. In 1950s she went to the so-called Virgin Lands in Soviet Kazakhstan where she made a series of paintings devoted to young people who worked there. Motherhood is another special theme of her work of that period. Woman, her feelings, the beauty of her body and joy of life are the central characters in her entire artistic heritage. In 1958 Irina with a group of artists went to Mordovia where she made colourful landscapes and portraits. 1969-1970 she spent in Vietnam.
Her works are represented in the State Tretyakov Gallery collection, Museums of Fine Arts of Komsomolsk-na-Amure, Omsk, Saratov, Vologda, Podolsk, Saransk, the Moscow Art Fund, numerous private collections in Russia, the USA, France, Japan, Holland.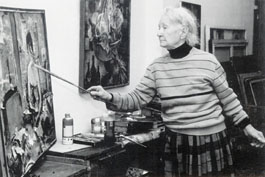 Coming SOON!

MARCH 13 - APRIL 9, 2014

"FRENCHWOMAN IN RUSSIA. Artworks by IRINA VITMAN"

"Irina Vitman reveals a deep interest in the story line, sometimes its hidden or the more explicit psychological depths, but always tense. At the same time, the artistic talent of this remarkable artist unfolds in its very form, its structure and colour saturation.

Some of her drawings and lithographs and sketches are equal to her paintings in showing current artistic trends and originality of its content.

Not only Vitman shows her chosen topic with an accurate observation and originality of approach, she also consistently upholds human dignity in a variety of subjects of modern life.

One of the artist's favorite themes - the female figure - is always unique and entrancing, astounding with its sincerity and purity."

Nikolay Nikogosyan, the People's Artist of the USSR.
MARK YOUR CALENDAR:
FAMILY ART SESSION
Sunday, March 23 from 11am - 1pm
Please, RSVP till March 20
Please, not that Gallery will be working Holiday week-end March 8 and 9.